Welcome to
Simran Technology
We are a team of professionals dedicated to providing high-quality lifting and weighing solutions to meet your material handling needs.
Our load lift company offers a range of lifting products designed to meet the needs of various industries and applications. Here are brief descriptions of some of the products we offer:
Our cranes are designed to lift and move heavy loads safely and efficiently. We offer a range of crane types, including overhead cranes, gantry cranes, jib cranes, and wall-mounted cranes.
Our hoists are versatile lifting tools that can be used to lift and lower loads in a range of settings. We offer electric chain hoists, wire rope hoists, and manual hoists to suit different lifting requirements.
Our lifters are designed for the safe and efficient handling of loads in various settings. We offer vacuum lifters, magnetic lifters, and drum lifters to handle loads of different sizes and weights.
We also offer a range of lifting accessories, including slings, shackles, hooks, and clamps, to enhance the performance and safety of our lifting products.
All our lifting products are manufactured to meet the highest quality standards and are built to last. We also offer customization options to meet specific customer requirements.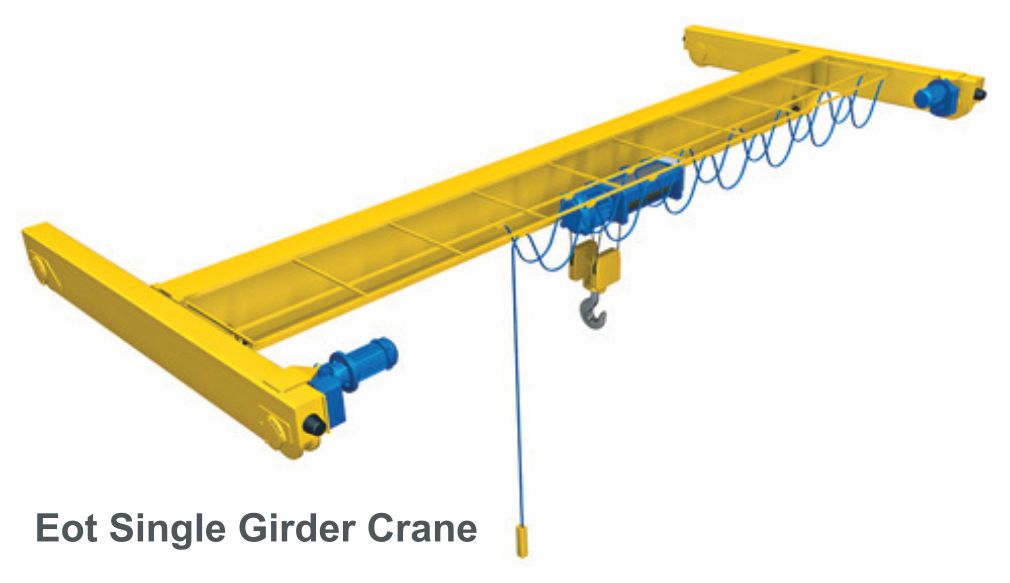 EOT SINGLE GIRDER CRANE
The single-girder overhead cranes (single-girder EOT cranes).is very convenient equipment for material handling even in small production units and warehouses. The reduced wheel loads Combined with very low headroom standard hoists provide outstanding value. These material-handling overhead cranes can be fitted in different floor areas by using various fixing arrangements and modifications in design. The accurate dimensions result in optimal hook position providing Exceptional travel characteristics.
EOT DOUBLE GIRDER CRANE
Overhead EOT double girder cranes are used in the application of lifting heavy loads which may weight up to 10 T and also for transportation of such heavy weights including the Span of 30m and more than that. This overhead EOT Double Girder crane is compatible with wide pans and heavy weights.2 torsion-free Box girders, EOT Girder cranes handling material, and traveling EOT cranes can useful in lifting heavy loads that cannot be done by normal cranes.
MOTORISED END CCARRAGE
Often when specifying Overhead Cranes customers ask "What's an End Carriage?" An End Carriage in basic terms is one of the set of carriages that support the main crane gantry, the End carriages feature Drive units that transport the crane structure up and down the workshop length.
WIRE ROPE DOUBLE GURDER CRAB
Double Girder EOT Crane has 2 Main Girders across the span. 2. It consists of an Electric Hoist traveling on the lower flange of the Main Girder and not required rail for cross-traveling. It consists of a crab mechanism that travels above both girders and runs over cross-travel rails with a platform to maintain all parts of the crab.
HEAVY INDUSTRIAL CRANE(EOT)
Heavy-duty EOT Cranes are applicable where the frequency of crane uses to high speeds of motion are high. The IS Standard has defined criteria for selection. For the selection of your application pl. approach us, we shall suggest you, suitable duty class.
ELECTRIC CHAIN HOIST
Electric Chain hoist and Electric Wire Rope hoist are both electrically powered heavy-duty machines designed for lifting objects that are heavier than human limits. The usage also includes the conditions where the lifting height is more, or it is a frequent requirement.
ELECTRIC WIRE ROPE HOIST
Electric Wire Rope Hoists are rotating devices that raise and lower large objects using a wire rope. The rope, which is wound on a grooved drum in a single layer, is guided by a ring over the drum. On pulling the wire rope, it spins around the drum and the object is lifted with the help of a lower load hook.
WEIGH BRIDGE
ESMB( pit type of steel deck weighbridge) and ESMB( pit less type Steel deck weighbridge ) fully electronic truck scales series are new generation products with good points of multi-structure truck scales. ESMW are research and development by us and widely adopted now. They have been tested with a heavy load for a long time and are optimized gradually. Their main beams and auxiliary beams are made of rigid section steel like -steel. High-quality Steel plates are selected and used for its platform, and its scale body is reasonably pieced into separate parts. while welding, we use special techniques and clamps, precision measure technology of space positioning, and advanced weld technique, so as to ensure the level degree of large area, the space geometry dimension and the rational distribution of weld stress.
GOODS LIFT
Goods lifts are designed to move goods, palettes and heavy loads between two or more floors, they can also function as bin/bike lifts. They are traditionally seen in back of house applications, such as catering environments, moving stock in warehouses and retail storage areas.
ELECTRIC MINI CRANE
We are offering Electric Mini Crane which is used in Lifting Heavy material. These crane are widely used for Construction Purpose. Our offered machines are highly efficient and are appreciated by our clients.
WIRE ROPE HOIST
Electric Wire Rope Hoists are rotating devices that raise and lower large objects using a wire rope. The rope, which is wound on a grooved drum in a single layer, is guided by a ring over the drum. On pulling the wire rope, it spins around the drum and the object is lifted with the help of a lower load hook.
HYDRAULIC STAKCERS
Manual pallet stackers make use of a hydraulic system to lift pallets around. Pallet stackers aid product distribution by allowing people to easily lift, handle, and carry palletized products. In effect, it combines the capability of a standard pallet jack with the convenience of a motorized lifting vehicle.
BUS BAR SYSTEM
Busbars are solid metal bars used to carry current. Typically made from copper or aluminum, busbars are rigid and flat — wider than cables but up to 70 percent shorter in height. They can also carry more current than cables with the same cross-sectional area.
CHAIN PULLY BLOCK
A Chain pulley block is a tool used to lift and lower heavy loads utilising a chain. Two wheels are functioning in it which the chain is wound around. When the chain is dragged, it winds around the wheels and starts to lift the item that is connected to the rope or chain via a hook.
PLATFORM SCALE
Platform scales are the second best in terms of load handling they have a raised platform, unlike the floor skills on which medium to heavy utility weights are measured. They find their place in medium shipments and air cargo sectors that face an arguably moderate flow of weight, unlike the jumbos. Shops supermarkets and Timber merchants in small-scale industries use these skills for their daily routines. They can measure approximately between 1000 kg to 5000 kg. The electronic platform scale is a multifunctional electronic weighing device composed of highly accurate load cells and intelligent universal weighing instruments with a built-in microprocessor quickly reliably and truly multifunctional.
HANGING SCALE
Hanging scales, also called crane scales, work a bit differently than ordinary scales. Instead of putting a load on a weighing pan or a platform, the load is suspended using the crane scale's hook. The scale itself can hang from machinery, hooks and other apparatuses.
HIGH ACCURACY WEIGHTING SCALE
The accuracy of a scale is a measure of the degree of closeness of the average value of an object's displayed weight to the object's actual weight. If, on average, a scale indicates that a 200 lb reference weight weighs 200.20 lb, then the scale is accurate to within 0.20 lb in 200 lb, or 0.1%.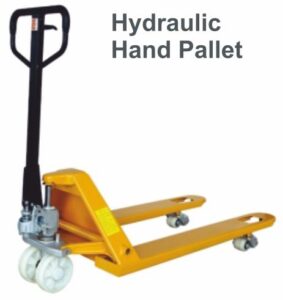 HYDRAULIC HAND PALLET
These jacks are used to maneuver and haul heavy loads. Moreover, these pallet trucks are used for short distances and are important pieces of equipment in any warehouse or distribution facility. Usually, the hand pallet truck is used along with pallets or skids.
Electric Chain Hoist
Medium-Duty Chain Electric Hoist
Power Lift Chain Hoist
Electric Chain Hoist
Mild Steel Chain Hoist
Etc
Industrial Wire Rope Hoist
Compact Wire Rope Hoist
Mild Steel Electric Wire Hoist
Electric Wire Hoist Crane
Mild Steel Crane Wire Hoist
Etc
1 Ton Motorized Chain Hoist
Electric Chain Hoist Single Phase
415 V Electric Chain Hoist
Safety Chain Hoist
Triple Geared Chain Hoist
EOT Crane Manufacturer
Remote Control EOT Crane
MS EOT Crane
Heavy Girder EOT Crane
Box Girder EOT Crane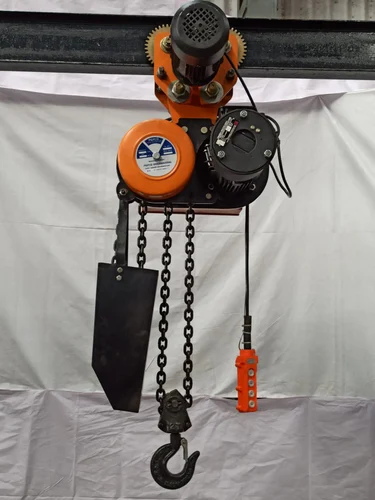 Electric Chain Hoist
Electric Chain Hoist with Electric Trolley
3 Phase Electric Chain Hoist
500 Kg Electric Chain Hoist
Electric Chain Hoist (Baby)
Bottom Block Hook Assembly
Crane Hook Block Assembly
Eight Falls Bottom Hook Assembly
Crane Hook Assembly
Hook Block Assembly
EOT Crane Hook Assembly
Crane Wheel Assembly
EOT Crane Wheel Assembly
Heavy Crane Wheel Assembly
Wheel Assembles For Crane
L Block Wheel Assembly
At our company, we specialize in manufacturing and supplying a wide range of load-lifting equipment, including cranes, hoists, and lifters. Our products are designed and built to withstand the toughest conditions and to deliver safe and efficient material handling performance.
Our team of experts is committed to providing the best customer service and technical support in the industry. We work closely with our clients to understand their specific lifting requirements and provide customized solutions to meet their needs.
We are proud of our reputation for delivering superior quality products, outstanding customer service, and timely delivery. Our goal is to exceed your expectations and help you achieve your lifting goals with confidence and ease.
Thank you for considering Simran Technology for your material handling needs. Please don't hesitate to contact us if you have any questions or if you would like to learn more about our products and services.
Thank you for your interest in our load lift company. Here are our contact details
Our team of experts will be happy to assist you with any questions you may have about our products and services.
We look forward to hearing from you and helping you find the best lifting solutions for your material handling needs.